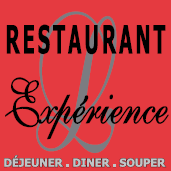 EXPERIENCE – TASTE – RETURN
The family restaurant experience you'll discover a variety of homemade flavor from appetizers to dessert, including our famous fondue and several guest tables.
BISTRO
A UNIQUE AND SUMPTUOUS DECOR
Located in Beaupré, near Mont-Ste-Anne, Bistro, rustic and country, is located in the 18th century foundations, fenestrated south-east, which is accessed to an outdoor terrace in summer. Daylight bathed in a gentle atmosphere and in the evening it is the flames of the impressive fireplace that transform the atmosphere in a warm and friendly place.
Terrace
What is better than to have a good time on a terrace in the summer?
Installed on the porch of the old house, the terrace overlooking the mighty St. Lawrence and Île d'Orléans, offering a breathtaking view of the panorama of the Côte-de-Beaupré.